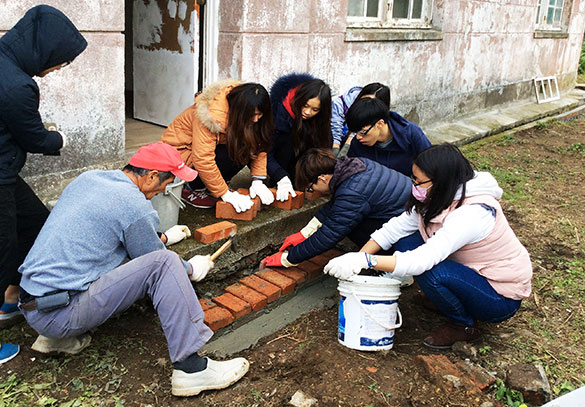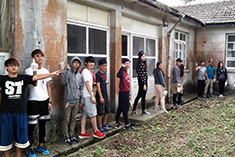 South of Yangmingshan National Park in Taipei, lies Taiwan's first and largest planned western-style housing village – The Yangmingshan US Military Housing. This village witnessed the most crucial part of Taiwan history during the Cold War. After the US military ended their station in Taiwan 35 years ago, many of these old houses suffered decay over the years due to lack of maintenance by the Bank of Taiwan, which owns this property. In order to preserve this precious historical and cultural heritage, the Yangmingshan Eco-Heritage Preservation Alliance (YEHPA) began a campaign,
Working with local communities and international volunteers to lease, repair, revitalize and re-use these old houses.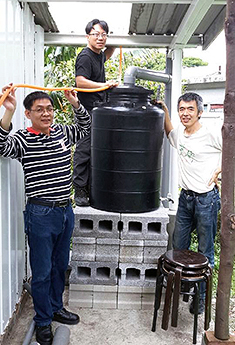 We invite you to join us in the revitalization of these old houses. Through hands-on restoration work, you will experience both the cultural and historical stories embedded in these old houses. As a "Go Green" effort, we will also install a new rainwater reservoir system for the old house (every drop of water is precious!). Imagine, in cold weather, you can nest beside the fireplace and listen to old stories, make new friends, learn how to live and travel in a more environmental friendly manner, and create a collective cross-national memory with us. Together, we will be co-writing a new page of history. Come join us in a peaceful,


sustainable
environmental preservation effort.
Hosted by: Taiwan Environmental Information Association
Contact Information:

Email: teiawh@e-info.org.tw
Office: +886-2-2933-2233 ext.223 Ms. Chou
Date: October 17-18 (overnight visit) 2015
Location: Taipei Yangmingshan US Military Housing

Gathering point「Chinese Culture University」Bus Stop on October 17 at 9:00 AM
Participants must be: 15 or older, willing to participate in cultural and ecological preservation activities. (Note: Children under 18 years of age or younger, need to be accompanied by an adult relative or friend. Legal guardian authorization is required )
Registration Deadline: October 7, 2015 at 17:00
Max. Participants: 24 people
How We Work

Clean old houses of dust and recover them to their original glory!
Install a new rainwater recycling system to update the old house to a modern environmentally-friendly house

How We Play

We will embark on a guided tour to visit and learn the history of Yangmingshan US Military Housing and our preservation efforts.
Each house has its own story. Beside learning about Taiwan history and culture, you will also learn to recognize the unique characteristics of each house. As night falls, we will set up camp in an old house and listen to local stories over the warm glow of a campfire.

Botanical Dyes
Each plant can produce a unique pigment.
Experience a natural chemistry class with botanical dyes.
By using different tying methods, create a botanical tie-dyed handkerchief that is truly your own.





Registration: Click here to fill in the registration form
Fees: NTD 3,200 per person. Cost includes activities, tour, meals, overnight experience in a historical house, and insurance. (Please pay a deposit of NT2100/USD70 within 3 days after booking. The rest of the fee can be paid upon arrival.)
【Refund policy】

*If you cancel your booking:
No refund of the deposit. Please do not book unless you are certain you can attend.
*If we cancel the working holiday:
In the event of a typhoon or other unforeseen circumstances, we reserve the right to cancel the activity. In such case, you'll receive a full refund of your money. (A transfer fee might be charged by the bank)

Note:

Participants should bring their own utensils, water bottle and toiletries. Activities throughout will use natural biodegradable cleaning supplies (including soap, shampoo, toothpaste, etc.) to practice "responsive tourism". (Organizer will provide an environmental-friendly natural sunscreen)
If you wish to extend your stay at the old houses, please contact us for more information.
In case of bad weather, insufficient registration, or other factors beyond our control , the organizer reserves the rights to adjust or cancel this activity/event.
The event will be held in the case of light rain. In case of a forecast for heavy rain or other conditions, participants will be notified at least one day in advance of cancellation or postponement of the event.

Photo Gallery: Previous Working Holiday
Schedule:
| | | |
| --- | --- | --- |
| 時間 | 10/17 | 10/18 |
| 0700-0800 | | Morning call, breakfast |
| 0800-0900 | 8:20 At gathering point | Restore living space |
| 0900-1000 | Happy to meet you/Take a walk around the Village | Let's get to work! to Make the old house better and more eco friendly |
| 1000-1100 | Happy to meet you/Take a walk around the Village | Let's get to work! to Make the old house better and more eco friendly |
| 1100-1200 | Happy to meet you/Take a walk around the Village | eco-friendly |
| 1200-1300 | Lunch time | Lunch time |
| 1300-1400 | Learn what to do | Organic cotton plant dyeing with natural dyes |
| 1400-1500 | Let's get to work! Make the old house better and more eco friendly | Organic cotton plant dyeing with natural dyes |
| 1500-1600 | Let's get to work! Make the old house better and more eco friendly | Share your experience |
| 1600-1700 | Let's get to work! Make the old house better and more eco friendly | 16:00 Goodbye~ |
| 1700-1800 | eco-friendly | |
| 1800-1900 | Dinner time | |
| 1900-2000 | International party | |
| 2000-2100 | International party | |
| 2100 | Time for bed | |