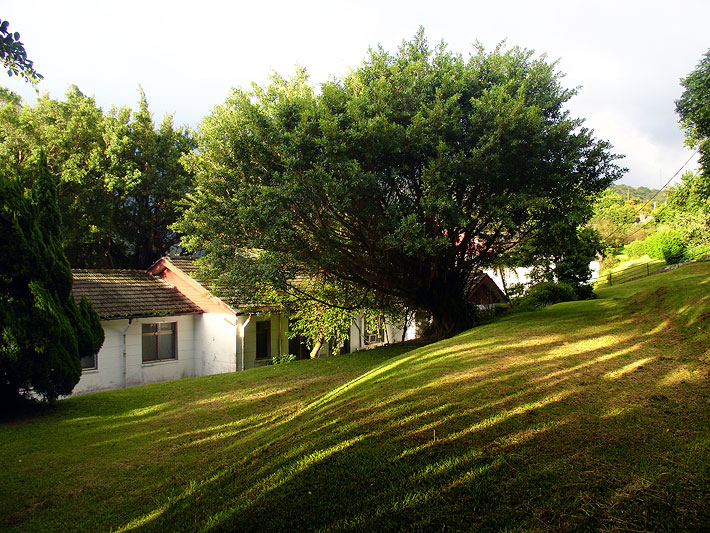 The American military housing complex of Shanzaihou comprises 57,000 Ping, containing over a hundred white wooden homes and precious trees. Starting in 2006, the news came out that the Bank of Taiwan, which owns this land, was planning to open up the area for development. The plan encountered calls for preservation by local cultural historians. The latest news has come out: Starting in June, in order to enliven property values, they plan to use their ownership of the land to put it up to auction and turn it into mixed residential-commercial development.
The quite exotic feel of the area is due to the fact that after the second world war, the homes were built to house American officials stationed in Taiwan. After they left, the land remained under the management of the Bank of Taiwan. The Bank explains that in June, they will auction the land rights for a period of 30 years. The lowest bid price is yet to be determined because the area has cultural value. Future bidders would have to have their plans investigated by a hearing of the Taipei City Department of Cultural Affairs

22 Cultural Heritage Sites
The Bank of Taiwan commissioned Han Ding International Consulting to prepare a plan for Shanzaihou. In the plan, the architect Chu Bai-Rui says that in order to lower the level of development , the area for development has been changed from a type 2 residential area to a special residential area, and the area has been reduced from 120% to 60%. Future development could not exceed three stories. Preliminary plans involve both a residential and commercial district, including homes, hotels, or stores. Yangmingshan has always been a famous luxury community. The most famous neighborhood is Guo Yuan Lai, a collection of villas, each of which is at least over 130,000,000 NT. Liao Youyu, the head of a Chinatrust Realty in Tianmu, says that Shanzaihou right now only has Mcdonalds and Starbucks, and medieval villas priced between 70,000,000 and 80,000,000 NT. If the area was developed, it would attract more business , and housing values would have an opportunity to increase. Local residents say "In the last few days, there have been westerners walking around with people from the Bank of Taiwan. They were carrying a map. The Bank might be looking for foreign investment!"
Currently, the City of Taipei's Department of Cultural Affairs has designated 22 buildings as unique cultural heritage. The remaining good quality preserved houses have been rented out for long leases to average people. Depending on the size of the house, the monthly rent ranges from 30,000 to 100,000 NT. After the Bank announced plans to auction the properties in 2006, the residents who lived there continuously sent in protest petitions. Lin Yue Xin, a member of the Shan Zai Hou culture and history workshop, says that 50 years ago, the government seized the land from locals to build houses for American officials. After the military left, the land should be the property of everyone. It should not be casually developed.
110,000,000 NT Property Tax

Deng Wen-Zong, head of the City of Taipei's Department of Cultural Affairs (Second Section), says "The American military homes are classified as a Cultural Site, not as an Historical Site. Therefore, according to city regulations, there can be moderate development". Lin Bing-Hong, Assistant Head of the Bank of Taiwan's Real Estate Development office, says that in order to protect cultural assets, regulations have already been stipulated. Future plans have to first go through a hearing of the Department of Cultural Affairs before proceeding. Culture, history and environmental protection will be considered.
Huang Yuchang, the local neighborhood head, says, a successful bidder would have to pay roughly 110,000,000 NT in taxes to the City of Taipei because it is a cultural heritage site. There is little chance of being able to auction, the best thing to do would be to let the current tenants remain , and as for the empty houses, the Bank of Taiwan could turn them into guesthouses or B&Bs.
Shanzaihou Military Housing Complex
Address:Ai Fu Second Street and Kai Xuan Road, Shilin District, Taipei City
Land Usage Designation:Special Residential Area (Category 1)
RBS、FAR:40%、60%
Area:57,000 Ping,Residential and Business District are about 30,000 Ping, the remaining are roads and public facilities.
Current Situation:Approximately 110 military houses,a small number are used by the Mandarin Language School,one half are rented out to people,the rest are abandoned.
Price Range:Medieval villas: 70,000,000 to 80,000,000 NT, Age 10~20 years:Average of 30,000 NT per Ping.
Timeline of Recent Shanzaihou Events:
2011: Announced to be opened in June to bidders.
2010: Due to government policy prohibiting sale of public lands, the Bank of Taiwan clarifies its right to auction the site.
2008: Land usage designation revised from type 2 to a special residential district. FAR revised from 120% down to 60%.
2007: In order to prevent destruction of the landscape, the Taipei City Government opens hearings to reduce Shanzaihou's FAR and RBS
2006: The Taipei City government designates 22 homes as protected cultural historical sites.
All rights belong to Apple Daily (2011/2/23)
| 柯玥寧